We help our customers anything and everything Data.
Big Data technology is new to most organizations and so is awareness of the skills needed to get the best out of Big Data. To "have" these skills overnight is wishful thinking. As a result, in most organizations a large percentage of Big Data skills need to be either learned or recruited, or a little bit of both.
We cover the 10 necessary skills depicted in the image below for implementing Big Data  projects successfully to develop actionable insights to make the "Predictive Analytics" into "Prescriptive Analytics".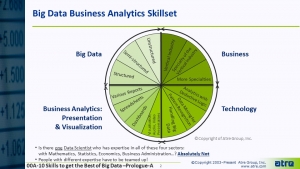 We assist you with the entire process of Business Analytics with Big Data
Data Storytelling is our another area of expertise. When you have a lot of Big Data still doesn't mean that the technologists can tell stories so that the users can relate to the insights that you want to communicate. We can help you with Data Storytelling so that you as a technologist can implement the insights with your users' help.
What are the main differences between humans and other species? We cook, clothe ourselves, and tell stories. For generations, we have been telling stories which invoke emotions with words. Why should it be different when we tell stories using data?  Story telling is a cornerstone of being human.
Big data is a colossal amount of data arriving at a dizzying speed. It is ferocious in its volume and its velocity. It is a story begging to be told to anybody willing to listen.
In Data Storytelling, we will help you to  present a framework for bringing data to life through storytelling. Using Aristotle's three act structure, we will show you  examples from life and business in which you can apply Aristotle's structure to situations that demand change.  We will show how, through the use of data storytelling, people and businesses can be presented with ways to understand their pressing problems and to develop options for change.
We will show you how to  tell stories using data you never will forget.
Aristotle proposed that a story should be based on a three-act structure:
A beginning, called a setup, is the First Act.
An unsettling event creating a conflict is the Second Act.
A resolution of the conflict and recreation of balance is the Third Act. If a call for action is implemented it is in the Third Act. The resolution of the Third Act may be a positive one, or, alternately, the result may be complete destruction.
Data Storytelling
A Beginning or a Setup – the First Act
In the beginning of our data story, we introduce the main character, the protagonist, and the current situation, with the strengths and weaknesses of the main character.
An Unsettling Event or a Conflict Creates an Imbalance – the Second Act
The protagonist confronts an incident, and takes some action that weakens her.
A Conflict Resolution or Trying to Regain a Balance – the Third Act
Our industry research analysis and insights are published through a combination of syndicated columns on Big Data, BI, data warehousing and knowledge management strategies. We frequently write special reports and publications on key development topics, marketing research and vendor strategies. Delivering both live and online content, we regularly provide keynotes at industry events, as well as contribute to webzines, columns and special publishing projects including the Events such as Predict 2016, 2017 , Data Warehouse Navigator and the Business Intelligence Navigator.
If you have data we have answers to your questions.